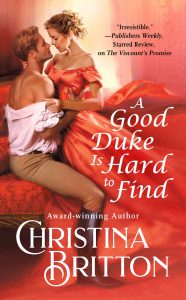 Book 1 – A GOOD DUKE IS HARD TO FIND
Available now!
Get swept away by a Regency romance of broken engagements, second chances, and stolen kisses from the author whom Publishers Weekly calls "irresistible".
After her third fiancé leaves her at the altar, Lenora Hartley is beginning to think she's cursed
.
One thing's for certain: she needs to escape London and her father's tyrannical attempts to find her yet another suitor. The Isle of Synne, an isolated and idyllic retreat off Britain's northern coast, is blessedly far from society's gossip, but it also carries haunting reminders of her first fiancé. Letting go of the past to find happiness seems impossible — until Lenora is thrown in the path of a gruff, mysterious blue-eyed man who makes her pulse race.
Next in line for a dukedom he doesn't want to inherit, Peter Ashford is only on the isle to exact revenge on the man who is responsible for his mother's death. Once he's completed the task, he'll return to America where his life can finally be his own. Yet when he meets the beautiful and kind Miss Hartley, he can't help but be drawn to her. Can Peter put aside his plans for vengeance for the woman who has come to mean everything to him?
Purchase from your local Indie bookseller (support small business!), or at the links below:
***A GOOD DUKE HAS RECEIVED A STARRED REVIEW FROM PUBLISHERS WEEKLY!***
I am absolutely thrilled to receive a starred review from Publishers Weekly for my first book in my Isle of Synne series! Here's a snippet:
"Britton (A Match Made in London) imbues her irresistible couple with impressive psychological depth, and the charming supporter characters of cunning Lady Olivia and rascally Quincy, Peter's best friend, steal every scene they're in. Readers will be hooked."
You can read the full review
here
!
---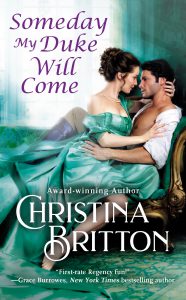 Book 2 – SOMEDAY MY DUKE WILL COME
Available now!
A fake engagement becomes the real thing in this historical romance that New York Times bestselling author Grace Burrowes calls "first-rate Regency fun!" 
Lady Clara Ashford had no intention of ever getting married. A rogue took advantage of her innocence when she was young, and she's spent her whole life trying to make sure no one finds out. But now that her sister is engaged, Clara's well-meaning aunt has set her sights on Clara. Desperate to avoid the matchmaking schemes, Clara's not sure what to do — until her neighbor, the new Duke of Reigate, shows up on her doorstep in need of her help.
Quincy Nesbitt reluctantly accepted the dukedom after his brother's death, but he'll be damned if he accepts his brother's fiancée as well. The only polite way to decline is to become engaged to someone else — quickly. Lady Clara has the right connections and happens to need him as much as he needs her. But he soon discovers she's also witty and selfless, and if he's not careful, he just might lose his heart.
Purchase fromyour local Indie bookseller (support small business!), or at the links below:
---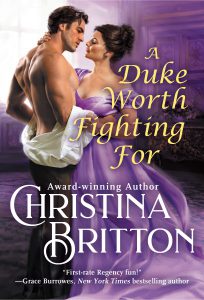 Book 3 – A DUKE WORTH FIGHTING FOR
Available August 24, 2021
Friends with benefits tests the resolve of a sad widow and a scarred veteran to keep their hearts untouched in this Regency romance from the bestselling author Publishers Weekly calls "irresistible."
To protect the dukedom from an incompetent and greedy cousin, Daniel Hayle, Duke of Carlisle, has promised to find a bride in London this season. But the idea of facing ballrooms and card parties is as intimidating as any battlefield in France, including the fight at Waterloo that left him terribly scarred. Perhaps a month on the Isle of Synne can provide him with the practice necessary to find a wife who can tolerate him enough to give him an heir.
Margery Kitteridge has been mourning her husband for four years, and while she's not ready to consider marriage again, she does miss intimacy with a partner. When Daniel asks for help navigating Synne's social scene and they accidentally kiss, she realizes he's the perfect person with whom to have an affair. As they begin to confide in one another, Daniel discovers that he's unexpectedly connected to Margery's late husband, and she will have to decide if she can let her old love go for the promise of a new one.
You can pre-order with your local Indie bookseller (support small business!), or at the links below: