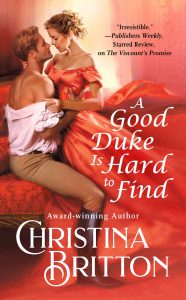 Book 1 – A GOOD DUKE IS HARD TO FIND
Available now!
Get swept away by a Regency romance of broken engagements, second chances, and stolen kisses from the author whom Publishers Weekly calls "irresistible".
After her third fiancé leaves her at the altar, Lenora Hartley is beginning to think she's cursed
.
One thing's for certain: she needs to escape London and her father's tyrannical attempts to find her yet another suitor. The Isle of Synne, an isolated and idyllic retreat off Britain's northern coast, is blessedly far from society's gossip, but it also carries haunting reminders of her first fiancé. Letting go of the past to find happiness seems impossible — until Lenora is thrown in the path of a gruff, mysterious blue-eyed man who makes her pulse race.
Next in line for a dukedom he doesn't want to inherit, Peter Ashford is only on the isle to exact revenge on the man who is responsible for his mother's death. Once he's completed the task, he'll return to America where his life can finally be his own. Yet when he meets the beautiful and kind Miss Hartley, he can't help but be drawn to her. Can Peter put aside his plans for vengeance for the woman who has come to mean everything to him?
Pre-order from your local Indie bookseller (support small business!), or at the links below:
***A GOOD DUKE HAS RECEIVED A STARRED REVIEW FROM PUBLISHERS WEEKLY!***
I am absolutely thrilled to receive a starred review from Publishers Weekly for my first book in my Isle of Synne series! Here's a snippet:
"Britton (A Match Made in London) imbues her irresistible couple with impressive psychological depth, and the charming supporter characters of cunning Lady Olivia and rascally Quincy, Peter's best friend, steal every scene they're in. Readers will be hooked."
You can read the full review
here
!
---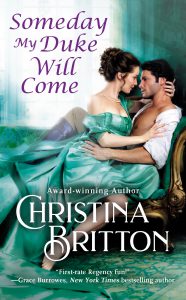 Book 2 – SOMEDAY MY DUKE WILL COME
Available January 12, 2021
Don't miss the second book in the series New York Times bestselling author Grace Burrowes calls "first-rate Regency fun!"
Mr. Quincy Nesbitt fled England and his mother's cruelties at the tender age of fourteen, determined to see the wonders of the world. The need to survive, however, quickly doused the spark of those childhood dreams. Now a man, with the means to see those dreams realized, he returns to London to say goodbye to his past and finally forge the future he'd always hoped for. But a final encounter with his mother reveals his brothers have all met their heavenly rewards and he is the last of his line—and the new Duke of Reigate. Lady Clara Ashford's world changed fifteen years ago when she lost her innocence and almost lost her life. Determined to smother the impulsive urges that led her down such a path, she settles into a life as caregiver for her family. Now in London for the season, her sister recently engaged and about to embark on a life of her own, Clara feels adrift and without purpose—until Quincy arrives on her doorstep. For he is the one man since her youthful tragedy who has made her wish to shed the careful control she's placed on herself, and to give herself up to emotions best left buried. Quincy has wanted the tempting Lady Clara from the moment he met her last year on the Isle of Synne. His desire for her has not abated, instead becoming more acute. But his feelings for her are a distraction he cannot indulge in, for not only is he not ready or willing to settle down, but the grim matter of his new position takes every bit of his focus.
When his mother attempts to force an engagement on him, however, and Clara does the unthinkable and attempts to save him from the unhappy union by claiming she and Quincy are already engaged, he finds himself then forced to play along to protect her reputation. But with temptation so close at hand, can these two wounded souls finally let down the barriers they've put up and take a chance on love?
SOMEDAY MY DUKE WILL COME releases January 26, 2021! You can pre-order with your local Indie bookseller (support small business!), or at the links below: