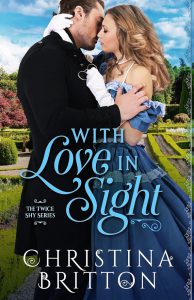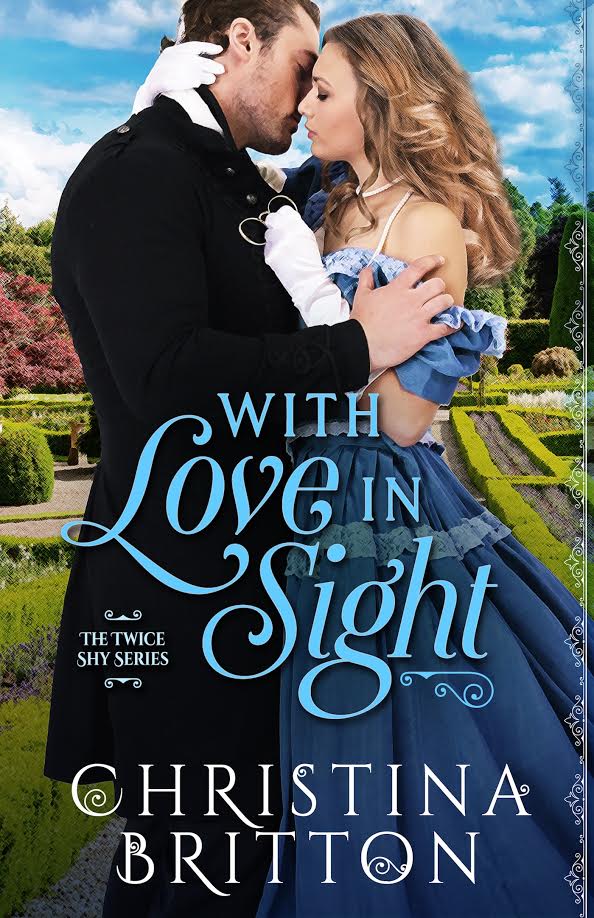 Book 1 – WITH LOVE IN SIGHT
A witty Regency Romance from 2017 Romance Writers of America's Golden Heart Winner Christina Britton.
An aging spinster at twenty-six, all Imogen Duncan sees ahead of her is a life of servitude to her overbearing mother. Her London Season has passed and her desperate shyness and reserved demeanor have destroyed any chance for a match. As her younger sister Mariah begins her own Season with a selection of suitors, Imogen believes her chances for excitement are well and truly lost…Until a case of mistaken identity and an accidental kiss bring adventure into her life.
Burying his guilt from a decade-old tragedy beneath a life of debauchery, Caleb Masters, Marquess of Willbridge is content enough to meet willing widows in dark gardens to numb the pain. But he is wholly unprepared when an innocent miss stumbles into his life, turning his superficial world on its head.
Drawn to the rogue that mistakenly stole her first kiss, Imogen finds not a suitor, but a friend. Free to be herself for the first time in her life, she begins to see a new beauty in the world around her…and see a strength in herself she never knew she possessed. But when friendship turns to passion, Imogen will accept nothing less than Caleb's heart. Can a healing of the past lead to the promise of a future together?
Ripped Bodice / Amazon / Barnes & Noble / Apple / Kobo / Goodreads
---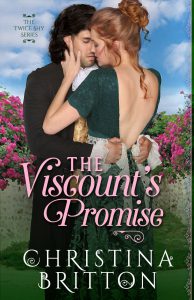 Book 2 – THE VISCOUNT'S PROMISE
She has spent her life hiding away from the world, until a viscount's promise brings her out of the shadows.
Lady Emily Masters has harbored a secret infatuation for the dashing Malcolm Arborn, Viscount Morley since a childhood accident claimed the life of her twin brother and left her own face scarred. But when fate brings them together again for her brother's wedding, she is dismayed to find instead of the brave gentleman who sheltered her after the tragedy, a surly rogue quick to quip and slow to trust.
To the cosmopolitan and haughty Malcolm, few engagements could possibly be more punishing than attending his friend's country wedding—until the groom requests he watch over his timid sister during the weeks leading up to the ceremony. Fearful of her scar making her the center of attention to the visiting lords and ladies, Emily proves to be a difficult charge for the irascible bachelor.
Her diffidence an insult to his sensibilities, he finds a new purpose within his role: to bring out the bold woman within. But how can such a gentle creature as Emily abide his own coarseness? At odds with their natures, will these two willful souls be able to look beyond their past hurt to build a promising tomorrow?
Ripped Bodice / Amazon / Barnes & Noble / Apple / Kobo / Goodreads
---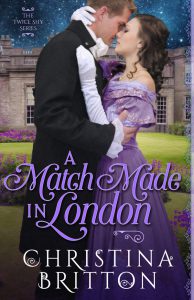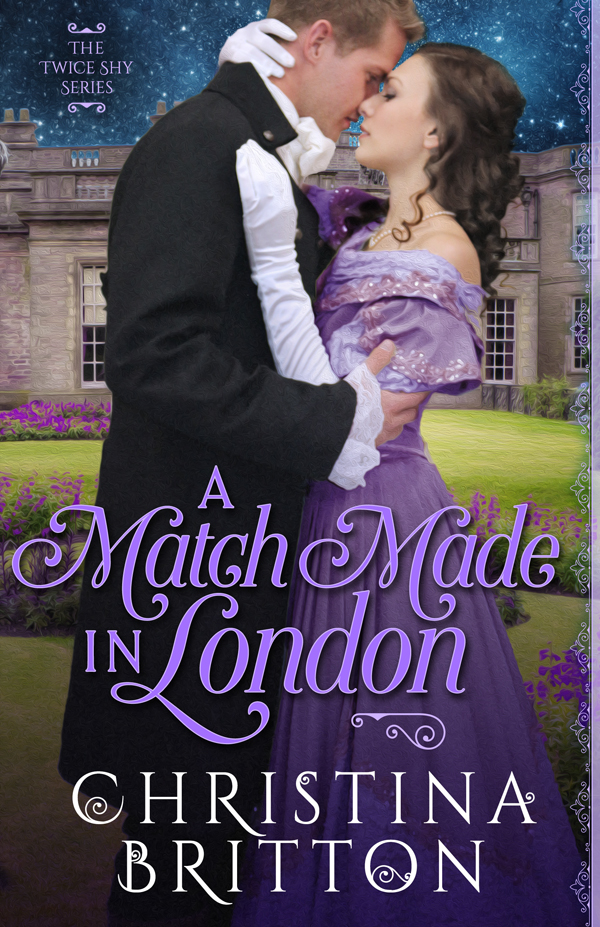 Book 3 – A MATCH MADE IN LONDON
A fiery companion and a roguish gentleman spar over matchmaking—but is there more between them than meets the eye?
Miss Rosalind Merriweather's life has been one of hardship and servitude since her late sister's ruination. Now a paid companion, her latest post brings her to London to watch over the daughter of a social climbing harridan. She vows to protect her charge—and her own heart—from rakes and libertines, the very type of man who destroyed her sister. This vow proves difficult when Sir Tristan Crosby, the epitome of all she despises, begins to show attention to the girl.
Tristan has spent decades perfecting his easygoing, charming persona to hide the damage done by years of abuse by his father. Finding he has a talent for matchmaking, he fills some of the emptiness inside him by helping the overlooked, shy women of London find true love. However, the latest young woman has a watchdog of a companion who seems to see beyond his careful façade to the flawed, uncertain soul he strives to hide from the world. Even worse, she affects him in ways no woman ever has.
But he will not give up his matchmaking, even for one such as her. What he does not expect is for Rosalind to be fired from her position because of it—nor that she will immediately find a position in his own household. When these two headstrong adversaries meet under one roof, will their attraction to one another lead to heartbreak, or have these two passionate souls finally met their match?
Ripped Bodice / Amazon / Barnes & Noble / Apple / Kobo / Goodreads