As part of the new holiday anthology ONE SCANDALOUS SEASON, you can find an all new Isle of Synne holiday novella, THE DUKE'S CHRISTMAS MIRACLE!
Four bestselling authors bring you the magic of the season in this holiday historical anthology, out DECEMBER 7, 2021!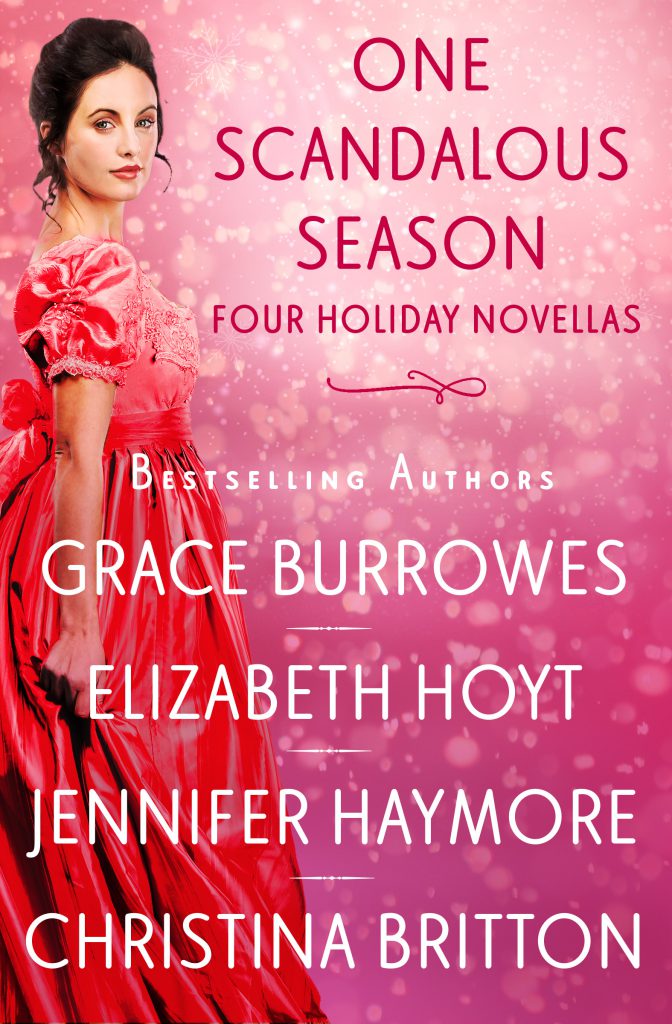 His for Christmas by Jennifer Haymore
Lady Amelia Witherspoon simply must get home to her beloved family on Christmas Eve. So when a terrible storm threatens to leave her snowbound, she refuses to admit defeat—even if that means sharing a carriage with Evan Cameron, the last man she ever hoped to see. Their only option is to take refuge together at a nearby inn, sharing the one remaining room. Evan promises to be a gentleman . . . but it's a promise neither of them wants him to keep.
Once Upon a Christmas Eve by Elizabeth Hoyt
Adam Rutledge loathes Christmas. But he'll brave the fiercest snowstorm to please his grandmother. Though when their carriage wheel snaps, they're forced to seek shelter. Sarah St. John loathes rakes. But in the spirit of the season, she'll welcome this viscount into her home. As the storm rages and the tension rises, Sarah and Adam find themselves locked in a fiery kiss. If love is the true meaning of Christmas, it's the one gift this mismatched pair can't wait to unwrap.
Patience for Christmas by Grace Burrowes
Advice columnist Patience Friendly's relationship with her stubborn, overbearing publisher, Dougal MacHugh, is anything but cordial. Dougal challenges Patience to take on a rival writer in a holiday advice-a-thon, and sparks fly clear up to the mistletoe hanging from every rafter. Will Patience follow the practical guidance of her head or the passionate advice of her heart?
The Duke's Christmas Miracle by Christina Britton
Poppy Tilburn's life has been one of heartache and difficulty. Now a lady's maid, she finds herself at the Duke of Hollyton's house party—only to learn her childhood friend Marcus is the duke. If a romance between them was out of the question before, it is so much worse now. But Marcus won't lose his dear friend again. As the wintry days pass, and Marcus and Poppy find the romance that sparked between them so long ago has rekindled into something much stronger, can he convince her to stay for good?
You can pre-order this ebook at the links below:
Grand Central Forever Website / Amazon / Barnes & Noble / Apple