Synneful Spinsters Book 2
***Please see the this page for Content Warnings pertaining to this , book; content warning does contain spoilers.***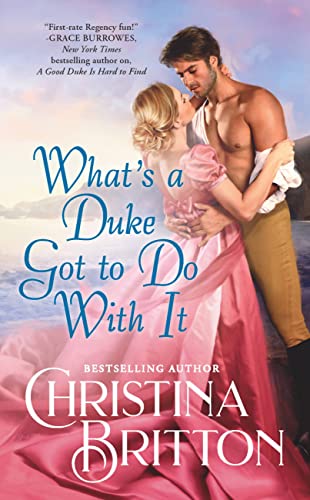 In this emotional tale of acceptance and healing, a woman unlucky in life and love has a second chance at romance when she runs into a dashing Duke from her past.
The last thing Katrina Denby expected to find in her garden is the body of the man who ruined her three seasons ago. No matter that his death is a tragic accident, the rumors are enough to kill any woman's prospects. With two scandals now hounding her, the best she can hope for is a hasty marriage of convenience—until her first love shows up in her drawing room, reminding her of all the reasons why she wanted a love match. If only he weren't already engaged. . .

Sebastian Thorne, Duke of Ramsleigh, knows what he has to do to save the dukedom from the crushing debts and scandal his father left: marry and marry well. He's picked the lady, too—a baron's daughter who is pleasant, if a little boring. But seeing Katrina again makes him want to throw all those perfectly laid plans out the window. The first chance he had with her, he chose his duty over his heart. Doing so again might prove utterly impossible.
Purchase from your local Indie bookseller (support small business!), or at the links below:
Forever Website / Amazon / Barnes & Noble / Apple
---
Reviews for What's a Duke Got To Do With It!
"Worthy characters get a second chance in Britton's masterful second Synneful Spinsters Regency…Britton creates high stakes and deep emotion by demonstrating the dangers and constraints of women's day-to-day lives at the turn of the 19th century and then soothes aching hearts with a swoonworthy love story. Readers won't want to put this down."
~Publishers Weekly STARRED review
"Devoted historical romance readers will enjoy another trip to the Isle of Synne. A charming and thoughtful Regency romance."
~Kirkus
"This fast-paced Regency romance features both a sweet love story and steamy love scenes, and a compelling cast of charismatic characters rounds out the engaging and alluring narrative. VERDICT This novel will appeal to readers seeking a well-developed and heartwarming historical romance about reputation, responsibility, and redemption. Recommended for fans of Sabrina Jeffries, Lenora Bell, and Anne Gracie."
~Library Journal